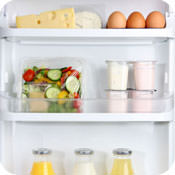 SparkPeople Experts' Refrigerators Exposed!
Fridge Staples of Our Fitness and Nutrition Experts
-- By SparkPeople Editorial Staff
Although everyone's preferences differ, it's nice to have some staple foods on hand to make quick and tasty dishes that are good for you, too. So what do the experts behind SparkPeople.com keep in their own refrigerators? See what they stock to find out if they're really walking the walk.

Chris Downie, Motivation Expert and SparkPeople Founder
"Our refrigerator has lots of veggies, and several batch dishes that my wife makes and we eat for several days. (I just ate her homemade enchiladas that have veggies hidden in them.)"

Meg Galvin, World Master Chef and Healthy Recipe Developer
"On the door: curry pastes, low-sodium soy sauce, black bean sauce, white wine vinegar, jam from the last harvest, homemade flavored oils, and my new faves--lemongrass and ginger in a tube! For quick nights, we just open the door grab some flavorful add-ins for our dinner. We also have: flax seeds, skim milk, oranges (we love the "Cuties" mandarins), strawberries, apples (Granny Smith and honey crisp or Gala), celery and carrots for snacking, hard and semi-hard cheeses like Parmesan and manchego, wonton wrappers for quick ravioli, yogurt, spinach, leeks, jicama, portabella and shiitake mushrooms, and asparagus. Also chicken breasts, eggs, and leftovers like pork tenderloin or turkey breast cutlets."