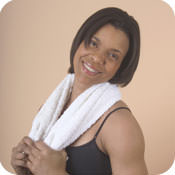 8 Workouts You'll Love if You Hate to Sweat
Don't Sweat It! These Perspiration-Free Workouts Deliver
-- By Jennipher Walters, Certified Personal Trainer and Fitness Instructor
There's little I love more than a good run or high-energy kickboxing class where you leave completely covered and dripping with sweat. There's something about being drenched that signals—to me—that I've had a really good workout, really given it my all. But I'm not normal. I know that for most people, especially those who don't like exercise, sweating has a big ick factor to it.

Sweat can get in your eyes, it can make you smelly, and it can really mess up your hair. And let's face it: Some people hate sweating so much that they don't like to work out But don't throw out your workout with the sweat puddles. Even though heart-pumping and sweat-inducing high-intensity exercise is often touted for its health and weight-loss benefits, low-intensity workouts have their perks, too. In fact, a three-month study from the University of Queensland in Australia found that subjects who did Tai Chi (a graceful mix of gentle exercise, stretching and meditation) regularly for 90 days—without any high-intensity activity—had decreases in blood pressure, blood sugar levels and insulin resistance. Not to mention that they also reported lower levels of depression, slept better, had more energy, and dealt with stress more easily.

Oftentimes lower-intensity exercise can be more enjoyable than more intense forms of exercise because it's more comfortable. We all know that exercise that is more comfortable and enjoyable—not some sweaty form of torture—is exercise that you want to do for the long haul. And any exercise you do regularly is good exercise! Below are eight no-sweat, lower-intensity workouts. If you're someone who avoids exercising because you think you'll have to shower afterwards or will spend the time gasping for air, think again. These eight activities are perfectly stress- and sweat-free!