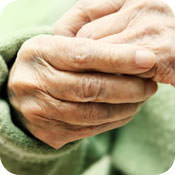 Exercises for Carpal Tunnel Syndrome
A Real Pain in Your Wrist No More
-- By Jason Anderson, Certified Personal Trainer
You don't want to complain, but lately you have felt a little tingling or numbness in your hand and wrist. Sometimes, the pain is sharp. Other times it seems to travel from your wrist up through your arm. You try to shake it off but it just won't go away.

Is it just a cramp? A muscle spasm? More than likely, you could be experiencing carpal tunnel syndrome, a condition seen annually by physicians more than two million times. It strikes three times as many women as it does men and it accounts for 10-20% of all repetitive strain injuries.

What is it?
Your median nerve, which controls sensations for the palm side of your thumb and fingers (except the pinkie) runs from your wrist to your forearm. It is encapsulated within the carpal tunnel, which is comprised of small bones. (Carpal comes from carpus, the Latin word for wrist.) Carpal tunnel syndrome occurs when this nerve becomes impinged, pressed, or squeezed within this bony tunnel. This can cause various symptoms including numbness, pain, tingling or a "funny feeling" in the fingers, hand, and/or wrist. Other classic symptoms include:
Burning, tingling, or itching numbness in the palm of the hand and fingers, especially the thumb, index, and middle fingers
Fingers that feel useless and swollen with little or no apparent swelling
The need to "shake out" the hand or wrist upon waking
Decreased grip strength
Inability to grasp small objects
Inability to distinguish between hot and cold to the touch
What causes it?