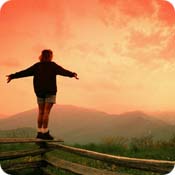 The Power of Gratitude
4 Ways to Develop an Attitude of Gratitude
-- By Ellen G. Goldman, Health and Wellness Coach
I'm sitting on my deck, laptop perched on my outdoor table, and my beautiful dog by my feet. Finally, after weeks of humidity that made even breathing difficult, it's warm with a cool breeze—the perfect weather to be working outside. As I gather my thoughts, I notice my emotional state: content, calm and peaceful. I am struck by the irony. Sitting here preparing to write about gratitude, I realize that is exactly what I am feeling today.

My blessings are numerous. I have a career I am passionate about, which also allows me to work from home and create the schedule I want. After growing up in an apartment, I still marvel at the luxury of living in a private home with a lovely, quiet backyard that has become an extension of my office. I can go on and on, finding things to be grateful for right now, but I don't always feel this way.

As a matter of fact, I had planned to write this article the other day but I was feeling anything but grateful. My email program had gone haywire, causing me to lose many important messages, and not allowing me to send the ones I was writing. I wasted hours on the phone with technical support, to no avail. To add to my not so pleasant mood, my daughter was supposed to start a new job that day but her new supervisor was nowhere to be found. To top that off, a foot injury that had slowly been healing, was acting up and throbbing all day.