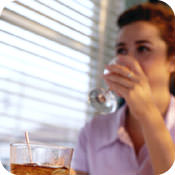 The Sneaky Calories You're Sipping On
Rethink Your Drink
-- By Sarah Haan, Registered Dietitian
They go down easily and can be found anywhere and everywhere. Water, tea, milk, juice, soda, flavored waters, coffee, energy drinks, smoothies. This list touches just a few of the many categories of beverages but doesn't even delve into the different brands, sizes, flavors and varieties. Plus, with the billions of dollars spent to make drinks look, like, way cool, it's hard to resist them! You probably couldn't avoid them even if you tried; they are everywhere you turn, tempting you at gas stations, schools, doctor's offices, malls, movie theaters, airports, bus stops, street corners, your workplace—even at the gym! For time's sake, let's skip counting the dollars spent on marketing these drinks and go straight to the number that matters most if you're watching your weight: 400.

That's the average number of calories Americans drink on a daily basis, according to a recent study in the American Journal of Clinical Nutrition, which showed that around 37 percent of our total daily liquid calories come from sugar-sweetened drinks. So where are all of these calories coming from? Here is a sampling of the calories hiding in your cup.

Soda is the most-discussed beverage that sneaks calories into your day. Soda and fruit-flavored drinks can rack up to 250 calories per 12 ounces. Ginger ale and dark cola are the lowest in calorie at about 120 calories per 12 ounces, and cream soda is the highest with about 200 calories per 12 ounces. Portion size does really say it all! When these sugary liquids are sold in 20 ounce, 48 ounce, 1 liter and 2 liter bottles, it would be easy to work up to 800 calories in drinks a day if you're not being conscious of your choices. (Big) gulp!