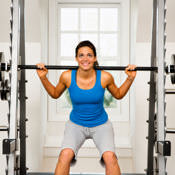 4 Must-Do Strength Training Exercises for Runners
Build Strength and Power, Decrease Injury Risk
-- By Nicole Nichols, Certified Personal Trainer and Fitness Instructor
Runners are a breed all their own. I can say that because I am a runner. We can be quirky about our race rituals and to outsiders looking in, our lives seem to revolve around a "boring" sport of putting one foot in front of the other. But as any runner knows, it's not really that simple (or boring!), to try to fit in fartleks, quarters, repeats and speed work along with your hills, distance runs, and race days. Mile after mile, we pound the pavement—rain, cold or sun—to reach our goals.

No matter what type of runner you are, or how many races you have under your belt, we all share one common goal: to be better runners. We want to get faster, run farther, be more efficient, and stay injury-free. But if we hope to reach this goal, we must do more than just run. It is important to incorporate other exercises into our workout plans, as well as some rest, if we hope to reach our full running potential.

Strength training is an important form of exercise for serious athletes and recreational exercisers alike, because not only does it help you build lean muscles that power your body through tough runs, but it also fires up your metabolism to help with weight-control and strengthens your bones against age-related deterioration. A solid strength training program can help runners achieve a more balanced musculature for greater power and a lower injury risk.