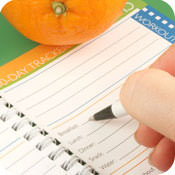 VIDEO: A Simple Tip to Reach Your Weight-Loss Goal
How to Stay On Track Throughout the Day
-- By Nicole Nichols, Certified Personal Trainer and Fitness Instructor
In this short video, Coach Nicole fills you in on an easy trick that will help you stay on the right path to achieving your health and fitness goals!



Help us Spread the Spark by sending this video to your friends (click "Share" at the bottom of the page)! You can also rate it, leave comments, or mark it as a favorite on YouTube.com so that others are more likely to find out about SparkPeople.com. Thanks for your support!

Viewing Tip
To play the video, simply click on the Play button (bottom left corner) to start. Below the video screen, you'll find buttons for Pause, Stop, and volume control. If you have a slower internet connection, click play, wait a few seconds, then click pause. Wait until the video downloads (the red bar will move left to right) before playing.