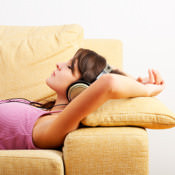 8 Ways to Put Yourself on Your Priority List
Finding Time for ''Me'' Time
-- By Ellen G. Goldman, Health and Wellness Coach
How often have you found yourself thinking or saying the following?

"I wish I had more time for myself."

"I'm so busy! I don't have a moment to breathe."

"I need more hours in the day."

"I don't have time for that."

We lead crazy, busy lives. And the one thing we never seem to have time for is ourselves. This problem seems even more pervasive as we work harder to meet the challenges of this new economy.

Creating more personal time tops the list of goals many people want to accomplish. With work time, partner or family time and social time all demanding our attention, we are constantly juggling our day-to-day responsibilities. Finding as little as 15-30 minutes a day of uninterrupted, relaxing "me" time is challenging at best.

But we all instinctively know that when we take time for ourselves to pursue our passions, do the things that we enjoy, relax or even do nothing at all, we end up happier, healthier and feeling better. "Me" time allows us to de-stress, unwind and rejuvenate. Taking time for yourself allows you to renew, heal, and create reserves of energy and peace.

When I ask my clients why they don't plan more "me" time in their schedules, three common themes arise: not enough time, feeling guilty, or it feels selfish. The more giving and caring a person you are, the more these feelings seem to emerge.