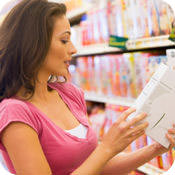 10 Surprisingly Healthy Packaged Foods
Convenient Can Also Be Healthy!
-- By Sarah Haan, Registered Dietitian
You've probably heard this advice before: For a healthy grocery trip, shop the perimeter of the store. Avoiding the middle aisles is a good tactic to help you make great choices and pick the most nutritious foods, but if you stick to this advice completely you'll be missing out on some of the nutritious items that do come in packages. These packaged foods—not to be confused with "processed" foods—can give you some great nutrients and make meal planning easier, saving you precious time.

You can feel good about buying some boxed, canned and jarred items when you're equipped with the right information. Understanding what you're looking for is the first step to healthy choices within the supermarket aisles.

Here's a list of the healthiest convenience foods you can buy from the center of the grocery store.

Canned Beans
Though dried beans are cheaper than canned, they can take a lot of time to cook. Canned beans pack an impressive amount of fiber and protein and can be a quick addition to many meals. Pinto, kidney, cannellini (white kidney), black, Great Northern—name any bean, they're all great sources of nutrition for your body. When you're choosing your beans, look for ones without added salt or seasoning. Before using your beans, drain and rinse them in a colander when you're ready to cook. This will help wash added sodium down the drain--40% of the sodium to be exact.