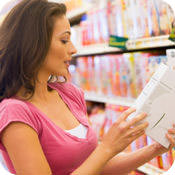 10 Surprisingly Healthy Packaged Foods
Convenient Can Also Be Healthy!
-- By Sarah Haan, Registered Dietitian

Oats and Flaxseed
Prepare to have a heart-healthy breakfast by combining old-fashioned oats and ground flaxseed, both found packaged in either cartons or bags. One cup of cooked oatmeal with 2 tablespoons of ground flaxseed will give you 8 grams of much needed fiber, as well as a dose of omega-3 fatty acids, which each protect the heart. Choose old-fashioned oats over quick oats or instant oatmeal to ensure you're getting the maximum amount of fiber without added salt and sugar.

Frozen Vegetables
These can be nearly as nutritious as fresh and are conveniently prewashed and chopped. To ensure you're getting the maximum amount of vitamins and minerals available, use the vegetables within a few weeks as some nutrients may begin to degrade over time. Also, steam or microwave your veggies rather than boiling them to make sure you're not losing water-soluble vitamins. Grab some edamame for a nutrient-packed snack, heat up some chopped broccoli as a side dish or combine a stir-fry mix with shrimp in a shallow pan and heat with a bit of olive or canola oil.

Frozen Berries
When it comes to meeting your daily fruit requirement, you can't beat frozen. Many frozen berries do not have added sugar, but some do. Double check that the ingredients list contains berries to make sure you're not getting extra calories from refined sugars. Then, add them to oatmeal, cereal, yogurt or make a smoothie.