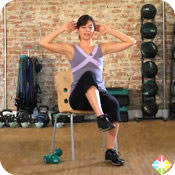 VIDEO: 12-Minute Seated Core Workout
Tone Your Abs while Sitting in a Chair!
-- By Nicole Nichols, Certified Personal Trainer
(Scroll down to push 'play' on the video player.)

For more information about this video, please scroll down to read the text below the video player.



About This Workout
In this workout, Coach Nicole will lead you through a series of seated exercises that will help you tone your entire core, improve your posture, and increase your spinal mobility and flexibility.

Length:

12

minutes
Equipment: None
Type of Workout: Strength training (toning) & flexibility
Muscles Worked: Abs, obliques and lower back

Fitness Level: Beginner to intermediate
Impact: No-impact
Safety Precautions: Work through your own range of motion, never to the point of pain. Avoid exercising in an unstable chair or a chair with wheels.

NEW!

Track Your Workout: Scroll down to the bottom of this article and click the "Add to Fitness Tracker" button. (You must be logged in for this to work.)
Extra Tip: Think about sitting as tall as possible and engaging your abdominals throughout every exercise. The more you focus on engaging the muscles you are trying to work, the more effective these moves will be.
Viewing Tips
You can pause or rewind the video at any time if you need a break or need to watch for closer instructions. We suggest watching the video one time through before attempting the workout.
This workout will take you through one set (

4-12

repetitions) of each exercise. If you want to do more sets, simply replay the video until you finish 2-3 sets. You can also break up these sets into multiple, short workouts throughout your day, provided that you warm-up each time.
This video does not include music, but you can play a stereo or CD in the background as you workout. Just make sure you can still hear the instructions.
To play the video, simply click on the Play button (bottom left corner) to start. Below the video screen, you'll find buttons for Pause, Stop, and volume control.
Help us Spread the Spark
by
rating our video
(or marking it as a favorite) on YouTube.com.