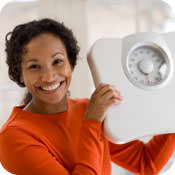 7 Things that Separate Weight-Loss Winners & Losers
How You Could Stay on Top of Your Game
-- By Megan Coatley, Behavior Expert
As you've probably figured out, winning at weight loss is about making long-lasting, life-altering change. Just like any sport or skill, you might start out a little rocky. Choosing healthy foods, trying different workouts, and finding the strategies that work for you will take a little practice. As you find your stride, those habits will get easier and you'll start knocking down more barriers that try to get in your way. Your momentum will start to build and you'll be ticking away at your weight loss goals one by one. Soon enough, you'll reach a fantastic tipping point when you feel a shift in the energy and really enter "the zone"—the stadium starts to flutter, the crowd starts to cheer! And you are winning at weight loss!

Whether you're focusing on your diet or hitting the gym, the commitment to long-term weight loss takes the mindset and mental stamina of a champion. You've got to have a supportive team and a great playbook to get on a winning streak. In this head-to-head match that lasts a lifetime, it's all about preparation. Your success will be determined by how well you set your strategy and play the game.

We're opening the playbook on the weight-loss game. Here are the winning strategies you'll need!