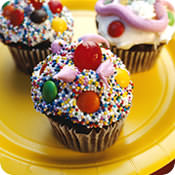 How America Grew
A Timeline of National Growth
-- By Mike Kramer, Staff Writer
Highlights on food and America from the past 50 years:

1950's – USDA creates four basic food groups: milk, meat, fruits and vegetables, and breads and cereals.

1954 – Swanson unveils the first TV dinners. Shoveling, snacking on and munching processed foods in front of the tube will soon become a national pastime.

1955 – Ray Kroc opens his first McDonald's franchise. During the next 49 years, eating out becomes less of an event and more of a necessity as people get busier and busier. Full schedules and the demand for consistency make fast food a multi-billion dollar industry.

1963 – Weight Watchers is incorporated and the first public meeting is held in a loft in Queens. Talk of balance is there, but soon the quick fix will prevail. (see 1974)

1967 – Amana introduces the first domestic Radarange microwave oven. Convenience foods and frozen foods are easier to eat than ever. Along with convenience, though, these foods bring piles of sodium, sugar and simple, refined carbohydrates, all big contributors to weight gain.

1974 – Two Italian gynecologists invent liposuction, ushering in the era of the quick fix weight loss mentality. To be followed in 1980 by the six-week Beverly Hills Diet, which starts dieters off with 10 days of nothing but fruit and water – and a common side effect of diarrhea.