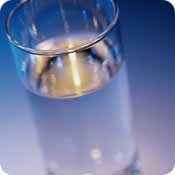 Water 101
Learn All the Ways to Get Your H2O
-- By Zach Van Hart, Staff Writer
Today, there are abundant ways to get your water. Tap water, mineral water, spring water, fitness water, water from bottles, water filters, water coolers, and the list goes on and on. What works? What are the differences among them? How much do they cost? Here's some help.

Bottled Water
It's becoming more and more popular, despite costing a dollar or two per bottle (and generating a lot of waste). There are many kinds of bottled water.

Spring water comes from underground water springs. It receives the same filtration treatment that all water receives, including tap water, but that's it. It is the more natural water and is typically characterized as tasting more refreshing.

Mineral water contains minerals or other dissolved substances that alter its taste or give it therapeutic value. Salts, sulfur compounds, and gases are among the substances that can be dissolved in the water. Mineral water, which is often effervescent, and can be prepared or can occur naturally.
The source of bottled water must be listed on its label. Not all bottled water comes from a spring. Many bottles of water contain nothing more than tap water, yet still cost up to $3.00 per bottle. One way to know that bottled water is actually tap water is to read the label. Look for "municipal" sources or words like "public water source" for clues. Dasani and Aquafina brands of bottled water are regular tap water, for example.