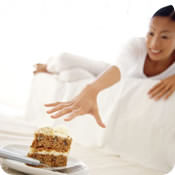 Healthier Ways to Eat Dessert
Smart Substitution: Dessert
-- By Liz Noelcke, SparkPeople Contributor

Try:

Low fat cookie
Frozen 100% juice bar
Fresh berries with low fat creamer
A few pieces of chocolate
Frozen grapes
Angel food cake
Pudding made with skim milk
Non-dairy frozen dessert
Low fat ice cream or sorbet
Pieces of fruit
A fresh fruit smoothie
If you are the one doing the cooking, there are lots of ways to make your favorite recipes healthier.
Use:
Egg substitutes or egg whites instead of whole eggs.
Apple sauce or prune puree instead of oil when baking to naturally trap moisture into your cakes and breads.
Less sugar. A lot of recipes call for much more sugar than is needed. You might even like it better for a little less of the sweet stuff!
Fruit-based desserts. Although you still have to be careful, these desserts often have less calories and fat than a chocolate or cream based one.
One of our recipes. SparkRecipes.com is full of healthy dessert recipes just waiting for you to try.