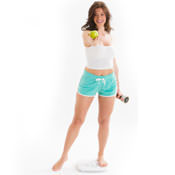 5 Ways to Love Your Body
Let Cupid Take Aim at You
-- By Carrie Myers Smith, Health & Exercise Expert
While many of us have an easy time showering other people with love, we find that Cupid has yet to hit us with the "body love" arrow. Don't wait for Cupid! Begin today to start appreciating, accepting and yes, even loving your body.

Stop picking yourself apart
Let's face it: No matter how close-to-perfection body you have (and just what is the perfect body anyway?), chances are, there is something you would change about it if you could. Even celebrities and models who have been stamped with the media's "perfect body" rating have parts they dislike – their feet, their hands, their ears – and they don't necessarily have high self-esteem either! Rather than pick your body apart, look at your body as a whole (and read the next point…)

Consider the marvelous functions of your body
There are millions of microscopic functions that go on in our bodies every day, and you don't even have to think about them. They just happen! Unfortunately, it often takes a crisis or a tragedy, such as a brush with death, a go-around with a disease, or a debilitating accident for some women to realize that their bodies weren't so bad to begin with and that their body hang-ups were a big waste of time. Don't let that be the case with you! How much time are you spending each day worrying about your weight, your body shape, the size of your rear? What could you be doing during that time? Maybe you're supposed to be the first female president, but you'll never know because you're too busy obsessing about your abs!