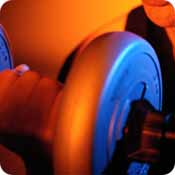 Strength Training: Good for Muscles, Great for Bones
Lift your way to Stronger Bones
-- By Daphne Stevens, Ph.D., Life Coach

Two mornings a week now I meet at the gym with a personal trainer. She challenges me to do things with weight machines and dumbbells that I didn't think were possible. Miriam is a cheerleader in this bone-building project. "Okay, let me show you the form," she says, jumping easily onto a contraption designed by war criminals. "Let's go for fifteen reps." She leaps off the machine and looks expectantly at me. I hesitate for a half a second. After all, I'm paying this woman to get me in shape. She should know (…shouldn't she?) what is too much and what is just enough? I enjoy the luxury of putting my busy mind on hold and doing what I am told.

I've surprised myself, these past few months. I'm up at dawn, ready to go. Undiscovered muscle groups are announcing their presence. They sing, "We're here!" during the workout and in the pleasant soreness that comes the day after.

Miriam uses a word that I like. Sometimes when I'm on the last repetition of the last set, a muscle begins to involuntarily tremble. "That's great," she says. "You're working to the point of failure."

In weight training, failure is a good thing. Failure means you've worked so hard that your body is saying, "Enough already! I give!" It means you haven't lost control - you're not in danger of injuring yourself - but if you don't stop now, you might be overdoing it.