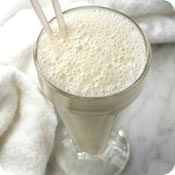 So Many Ways to Enjoy Soy!
How to Incorporate Soy Foods into Your Diet
-- By Liza Barnes, Health Educator

But in order for soy to be beneficial to your health, you have to eat it regularly in an appropriate amount and as part of your overall balanced and healthy diet. For people who want to eat soy products, up to one to two servings per day is appropriate. Examples of a single serving include:
1 cup soymilk
1/2 cup tofu
1/2 cup soy protein (tempeh)
1/2 cup edamame
1/2 cup roasted soynuts
Don't be frightened about experimenting with this little legume. The many forms of soy are simple and delicious, and the options are plentiful. Here is a brief introduction to the major players in the category of soy foods.
Edamame
These large soybeans are harvested when the beans are still green and in their most natural state. Edamame is most often sold frozen, but some stores may carry fresh edamame in the produce section. These soybeans have a sweet taste and can be served as a snack, appetizer (common in Japanese and sushi restaurants) or a main vegetable dish. You can find them in the pods or shelled (no pod), and which option you choose should depend on how you plan to eat them. (Remember, once cooked, to only eat the inner beans and discard the pod.) To prepare, just steam or boil edamame for about 5-10 minutes. Add a little salt, pop open the pods, and eat the beans by pulling the pod through your teeth. Shelled edamame also makes a
great addition to many recipes
, such as stir-fry, succotash, or vegetable-based salads.