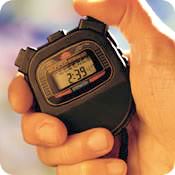 Confessions of a Reformed Procrastinator
Break the Energy-Sapping Cycle
-- By Mike Kramer, Staff Writer
This article has been a long time coming. In fact, it's probably several years overdue. Why? Because… I'm a closet procrastinator.

I've been too aware for too long that I've suffered this affliction. In college, 73% of my studying (I checked) was done between the hours of 11pm and 4am the night before exams, fueled by Cheetos and Mountain Dew. My car always stayed dirty, my fridge was always cluttered, and the malls always stayed open an extra hour for me on Christmas Eve. I once didn't eat breakfast because making toast seemed like work. True story.

Over the years, I've learned to cope with this burden and even overcome it in many significant ways. I can't tell you what a HUGE difference just a few simple goal-setting techniques have made. Being accountable to something written on paper compels me to act. It may be true that thinking before you act is a virtue. But too much thinking leads to very little action. And action is everything when it comes to reaching meaningful goals and leading a meaningful life.

But I learned a valuable lesson the other day that may help me even more. I learned that I'm still procrastinating in a lot of small, unseen ways that can add up to frustrating days.