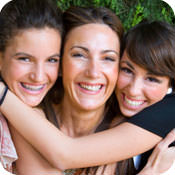 The Soccer Mom Fitness Trap
You're Busy, But Not Active
-- By Rebecca Pratt, Staff Writer

First on the list: setting up the household so that her children could take on more responsibility.

"They've done their own laundry since they were 10, 11, 12 years old," she says, recalling with a chuckle how she got her darlings their own clothes baskets and held a group training session to show them how to use the washing machine. They also learned at an early age to cook meals, as well as rotate kitchen cleanup and other daily chores.

While it wasn't always smooth sailing— "I learned really quick that they needed assigned days to do their laundry, because they would all wind up trying to do their laundry at the same time and it was ugly"—Taimi says she learned as she went, and the additional responsibilities were good for her kids.

Slated next for a new plan of attack was the weekly marketing, since "I hated everything about grocery shopping."

Though there were limits to how much she could reduce this task, she simplified the process by instituting her own 'Deal-a-Meal' lists, with dinner menus on one side and the necessary ingredients on the other side. "That way, I could plan out 6 or 7 different dinners every week, and already have the list. I couldn't change the need for shopping, but I could get it done quicker."