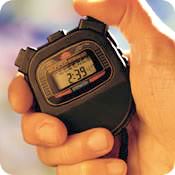 Manage Yourself in No Time
Tips to Fit More Into Your Day
-- By Rebecca Pratt, Staff Writer
As the world of technology evolves, there are more and more devices to make life easier for us. Think of all the time we save with things like garage door openers, snow blowers, remote controls, dishwashers, elevators, high speed internet, digital everything, laundry and cleaning services, gas powered mowers, online shopping…

It seems like no matter how many time-saving tools we have, people just keep getting busier. We work, sometimes more than one job, go to night school, have families, pets, belong to book clubs, volunteer, and more. If saving stress and finding time for fitness sound like good ideas for you this year, here are some tips that time management experts offer for busy parents…but you don't have to have children to benefit from this great advice.

Do a Realistic Time Audit
Time management experts stress that before you can make needed changes in the way you manage time, you need to look at how you spend your time now. What activities or tasks are taking up the biggest chunks of your life? What items do you hate or put off most? Are you allowing others to dictate uses for your time that aren't productive or don't fit your agenda? By doing a brutally honest assessment, you can begin to change the way you manage yourself in relation to time.