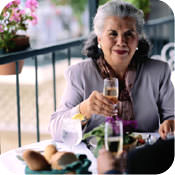 The Keys to Conquering Cholesterol
Do's and Don'ts for a Healthy Heart
-- By Becky Hand, Licensed & Registered Dietitian
Heart disease is a scary thing. In the face of dire risk factor statistics and horror stories about cholesterol, you can easily get rattled. You might feel overwhelmed by the whole cholesterol question, and feel like you face uninformed life and death decisions every time you sit down at the table.

But reducing your risk of heart disease is not an impossible task. All it takes is a few simple adjustments.

Your cholesterol level is determined by several factors, including your genetic makeup, your diet, and certain lifestyle choices. You can't do anything about genes passed down from Grandpa Charlie, but you can change your future with a few new, heart-friendly lifestyle choices.

The list below contains several strategies to help you develop cholesterol-smart, heart-healthy habits. These nutritional do's and don'ts won't have you feeling deprived, or require you to train for a marathon. They will, however, make your heart very happy. And a happy heart has nothing to be afraid of.

DO watch your cholesterol intake. Dietary cholesterol (the cholesterol you eat) may raise blood cholesterol levels. Limit dietary cholesterol to 300 milligrams a day.

DO limit the fat in your diet. A diet rich in fat encourages weight gain and may lead to elevated blood cholesterol levels.