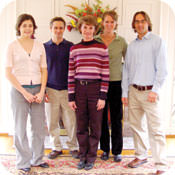 Expert Solutions: Motivating Goals
SparkPeople Experts and Coaches Weigh-In on Motivation Issues and Dieting Frustrations
-- By SparkPeople Experts
TODAY'S TOPIC: How much should you challenge yourself and how high should you set the bar? Some believe that building confidence by reaching any goal is most important. Others feel that being inspired by high standards or a lofty goal is what will get you up in the morning. Let's talk about some of the pros and cons of challenging yourself vs. taking it easy and aiming low.

NICOLE (SparkPeople Fitness Expert): I think it's important to have both broad and specific goals. A broad goal would be: I want to be healthier. From there, you add specific goals: "I want to lose weight. I want to eat healthier foods. I want to exercise, etc. Within that, I think small and attainable goals are the way to go. If you are a less-than-healthy person, a little overweight, eating a poor diet, maybe even a couch potato, I don't think it's reasonable or motivational to set high goals like: I will run 3 miles 5 days a week.

When it comes to seeing results and meeting goals, I think small goals are best. Setting small goals and continuously improving is going to be great for your self-esteem and it'll keep you motivated. Small goals would be: eating one piece of fruit each day, trying a new vegetable dish, exercising for 10 minutes 2-3 days per week. Meeting these goals—and keeping track of them in a journal or an online format—is very motivating. Once they're met, set your standards a little higher, and you're always achieving something, and all of these small "somethings" are helping you toward your broader goal of "getting healthier."