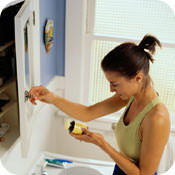 12 Ways to Spot a Fad Diet
Identifying Weight Loss Scams
-- By Becky Hand, Licensed & Registered Dietitian
The next time you watch an infomercial, read an advertisement, or spot a new supplement reporting miraculous weight loss results, we wouldn't blame you for cocking a wary eyebrow. When evaluating claims for weight loss products, the Federal Trade Commission (FTC) recommends a healthy portion of skepticism; most don't come close to fulfilling their claims. And in the rare cases where a product might result in some temporary weight loss, it is almost never a permanent solution and is usually unsafe.

Before you spend money on products that promise fast and easy results, weigh the claims carefully. You might even consider contacting the FTC directly for more information or if you have concerns.

These 12 tips will help you critique and evaluate weight loss claims and spot a scam before it's too late:

1. "It's so easy to lose weight without dieting or exercising!" Face it—permanent weight loss takes work, effort and time. Pass on any products that promise miraculous results without the effort. Buy one and the only things you'll lose are money and confidence.

2. "Eat whatever you want and still lose weight!" Losing weight requires sensible food choices, not overloading on high-fat, high calorie foods.

3. "Lose weight forever…you'll never need to diet again!" For weight loss to be permanent, it requires lifestyle changes. On-going maintenance is always a must.