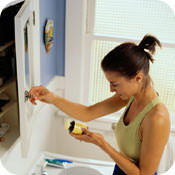 12 Ways to Spot a Fad Diet
Identifying Weight Loss Scams
-- By Becky Hand, Licensed & Registered Dietitian

4. "Block the digestion and absorption of fat, carbs, or calories!" Remind yourself that a little pill to curb cravings and suppress appetite just doesn't exist. There is no magic potion that will allow you to completely block the digestion and absorption of fat, carbs, or calories either. The majority of these over-the-counter products and "supplements" are scams with no supporting scientific research and thus a waste of your hard-earned money.
Note: SparkPeople does not endorse or recommend the use of any diet pills, but since this article was published, one over-the-counter weight-loss medication has been approved by the Food and Drug Administration. When taken with low-fat meals, Alli can prevent up to one quarter of the fat you eat from being absorbed. Alli is not without risks, so talk to your doctor and do your homework first.

5. "Rapid weight loss: Lose 20 pounds in 2 weeks!" Looking to lose weight rapidly for your high school reunion or wedding? Products that safely produce lightning-fast weight loss just don't exist. A weight loss of 1-2 pounds per week is the safest and most effective way to take off weight and keep it off.

6. "Finally, a weight loss formula for everyone!" A diet that claims to be perfect for all is erroneous. One-size-fits-all just doesn't work. Your lifestyle habits and health concerns are unique. That's why SparkPeople helps you design your own personalized nutrition and exercise programs to suit your particular lifestyle needs.