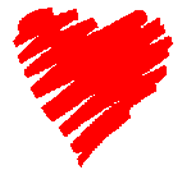 Heart-Healthy Benefits of Exercise
Your Body Benefits from Your Hard Work
-- By Jen Mueller, Certified Personal Trainer

There are easy ways to add this type of activity to your daily routine:
Park the car farther away from your destination.
Get on or off the bus several blocks away.
Take the stairs instead of the elevator or escalator.
Take fitness breaks instead of cigarette or coffee breaks. Walk, stretch or do some office exercises.
Perform gardening, yard work, heavy house cleaning, or home-repair activities.
Avoid labor-saving devices; turn off the self-propel option on your lawn mower or vacuum cleaner, and hide all of your TV remotes.
Exercise while watching TV. For example, use hand weights, a stationary bike or treadmill, stretch, or perform body-weight exercises such as crunches, push ups and squats.
Keep a pair of comfortable walking or running shoes in your car and office. You'll be ready for activity wherever you go!
Walk while doing errands.
The good news is that it's never too late to start an active lifestyle. No matter how old you are, how unfit you feel, or how long you've been inactive, research shows that starting a more active lifestyle now—through consistent, moderate-intensity activity—can make you healthier and improve your quality of life.