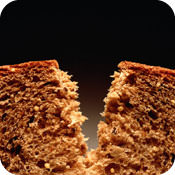 Delicious Ways to Boost Fiber Intake
It's Easier (and Tastier) Than You Think!
-- By Christine Seymour, Health & Fitness Writer
Fiber is one of the easiest nutrients to incorporate into your diet, and one of the most important. However, many Americans don't get the much needed 25 to 35 grams recommended daily for a healthy diet. Insufficient fiber intake can increase your risk for many health problems, including constipation, high cholesterol, weight gain, irritable bowel syndrome, and even cancer of the colon.

What is Fiber?
Fiber is the fibrous part of a plant food that your body cannot digest. Therefore, when it passes through the digestive system, it acts as a broom, sweeping out all unnecessary waste leftovers from digestible food. Fiber can be found naturally in many foods, and in supplement form. Here are some easy ways to add fiber to your diet:

Replace your white bread with whole wheat bread.
Many breads are packed with fiber—after all, just ½ cup of whole wheat flour packs more than 7 grams. Look for the words "whole wheat" at the top of the ingredients list, but remember to read those nutritional labels carefully. Just because a loaf of bread claims to be "whole grain" or "wheat" doesn't mean it includes a healthy dose of fiber in the package. Many of those eye-catching labels will reveal only 1 gram of dietary fiber, meaning that the bread is made mostly from white flour, not whole wheat.