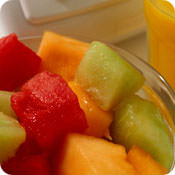 Be a Melon Head
The Sweet Tasting Fruit That's Sweet for You
-- By Liz Noelcke, Staff Writer
At some point in your life, you have probably tried cantaloupe. Even if this is not your favorite fruit in the world, it has some amazing benefits that might just change your mind.

For starters, cantaloupe is an amazing source of Vitamin A and is highly concentrated in beta carotene. Not only that, but it's a good source of Vitamin C.

When you think of good sources of potassium, bananas probably come to mind. Cantaloupes however are also an amazing source of this nutrient. Just one cup has over 4"0 milligrams! It is important to include potassium in your diet as it helps your muscles contract and your nerves function properly. Potassium also helps store carbohydrates for muscle use later on.

Cantaloupe is also saturated-fat and cholesterol free. According to the FDA, low fat diets rich in fruits and vegetable may help to cut the risk of certain types of cancer. The FDA goes on to say foods high in potassium and low in sodium, such as cantaloupe, may also reduce the risk of high blood pressure and stroke.

When at the grocery store, it might be difficult to choose a "good" cantaloupe due to their thick shell. Here are a few helpful tips that should make it a little bit easier. First, look for one with a shell uniform in appearance. This means not having visible bruising or abnormal shaping.