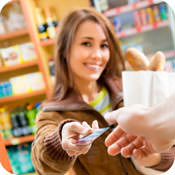 15 Ways to Save Big Bucks on Healthy Groceries
Beyond Clipping Coupons: Real-World Strategies that Work
-- By Liza Barnes, Health Educator
Have you ever experienced a feeling of sticker shock when the grocery store cashier announced your total? Do you wonder how such a large percentage of your paycheck fits into a few measly bags? Groceries are expensive, especially these days, when many of us are struggling to make ends meet and food prices continue to rise. And it's going to get worse before it gets better. Fortunately, there are many ways to save money on your grocery bill—without giving up on your desire to eat healthier. We all have a variety of challenges and circumstances, so select the suggestions below that will work for you and your family.

Don't shop on an empty stomach.
The cardinal sin of grocery shopping, hitting the store when you're hungry, will put you over budget faster than you can say "junk food." If you have no choice but to go to the store without a meal, buy an apple and some nuts (or another snack rich in protein and/or fiber) to munch on while you're shopping.

Plan!
At the very least, make a list before you shop. At the very best, plan your weekly menu or list a few main dishes that you can eat throughout the week. This will save you not only money on your grocery bill by preventing you from buy (and possibly pitching) food you don't need, but also time and fuel savings, from fewer trips to the store for essential ingredients.