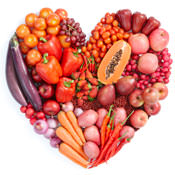 Eating for a Healthy Heart
A Heart-Healthy Diet Plan
-- By Becky Hand, M.Ed., RD, LD with Nicole Nichols, Health Educator
Looking for ways to kick start your heart-healthy lifestyle? Start by looking at your diet. Poor food choices can have a negative effect on your heart, weight and overall health; but making small, sustainable changes to improve your diet can have a lasting impact. There is a lot of misinformation about what foods are or aren't heart-healthy, so it may surprise you to learn that you don't need exotic fruits, imported nuts, or even pricey supplements to take care of your ticker. By making heart smart choices at home, at the grocery and at your favorite restaurant, you can reduce your risk of heart disease.


Dietary DOs and DON'Ts for a Healthy Heart
DO
focus on fruits and vegetables. Most American's don't come close to eating the recommended minimum of five servings per day, but vegetables and fruits of all kinds and colors should take center stage in a heart-healthy diet. They're rich in fiber, vitamins, minerals and antioxidants that promote a healthy heart and body, plus they're filling and low in calories, which can promote weight management. Fresh, frozen, dried, canned (without sugar/syrups or added salt), raw, cooked—all fruits and vegetables are good for you. Here are more tips to
fit them into your meals and snacks
.