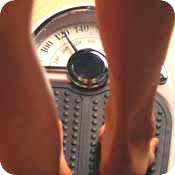 6 Weight Loss Mistakes to Avoid
Small Changes for Big Results
-- By Jen Mueller, Certified Personal Trainer
Welcome to SparkPeople! Hopefully your program is off to a smooth start, and you're happy with your progress so far. But for others who aren't seeing results yet, it's been a little more frustrating. Many dieters tend to make similar mistakes when trying to lose weight. But being aware of these mistakes—and making small physical and mental changes—will help you lose the weight and keep it off for good. Here's how:

Slower is Better
The first mistake dieters make is having unrealistic weight loss expectations. The SparkPeople program is set up to help you safely lose between half a pound and two pounds per week. Studies show that individuals who rapidly lose weight are more likely to gain it back. So if you've lost a few pounds this month—excellent! Don't discount that because you see someone on T.V. losing 15 pounds in two weeks.

Everyone is Different
While some people lose a lot of weight in the first few weeks, others might not lose any weight for a few weeks. Although this can be frustrating when you're doing everything right, it's not a reason to give up. Sometimes it just takes a little while longer to see the results of your hard work reflected on the scale. Remember, eating right and exercising regularly have positive impacts on your health in many other ways, such as more energy, less stress, better sleep, and reduced risk of many diseases. You'll receive those benefits—regardless of the number on the scale.