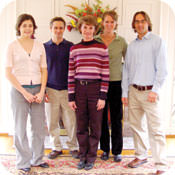 Healthy Habits of the SparkPeople Coaches
Get the Trade Secrets Directly from the Experts
-- By SparkPeople Experts
Wouldn't it be great to be inside the mind of a health and fitness expert, even just for a little while? Now you can! Below, your favorite SparkPeople experts share the secrets of their healthy lifestyles. Just like you, they have to deal with temptation and work hard to fit healthy habits into their busy lives. Maybe there's something they do that you can apply to your own life!

THE EXPERTS
Dean Anderson: Behavioral Psychology Expert, Certified Personal Trainer
Chris Downie: Goal and Achievement Expert
Sara Hambidge: Physical Therapist
Becky Hand: Registered Dietitian, Licensed Nutritionist, M.Ed.
Tanya Jolliffe: Nutritionist
Jen Mueller: Certified Personal Trainer, Fitness Coach
Nicole Nichols: Group Fitness Instructor, Personal Trainer

My favorite healthy snacks:
DEAN: Non-fat yogurt with frozen blueberries
CHRIS: Fresh raspberries (mmm!), smoothies, nuts
SARA: Trail mix, almonds, granola bars
BECKY: My homemade granola
TANYA: Raisins and peanut butter (sometimes mixed together!)
JEN: Yogurt, Luna bars, cottage cheese
NICOLE: Apples with peanut butter, dried fruit and nuts, yogurt with berries

My favorite not-so-healthy indulgence:
DEAN: Adding a little Midnight Moo (Trader Joe's organic, non-fat chocolate syrup) to my favorite snack
CHRIS: I enjoy chocolate regularly, but in small amounts- and Doritos!
SARA: Anything chocolate! I usually have a little everyday to treat myself and prevent overindulgence.