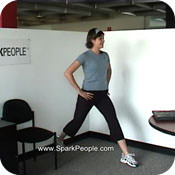 VIDEO: 15-Minute Desk Workout
No More Job-Related Jiggle!
-- By Nicole Nichols, Fitness Instructor
(Scroll down to push 'play' on the video player.)

For more information about this video, please scroll down to read the text below the video player.

[sp_dart_video]

Take this video with you! Click here for a printable version of Coach Nicole's 15-Minute Desk Workout!

About This Workout
Need more ideas for squeezing fitness into your busy day? Well, if you spend a lot of time in front of a computer at work or at home, then this is the workout for you. You won't need any equipment—just a wall and a chair. This workout will take you through a series of 10 exercises that work all your major muscle groups, and end with seated stretches for the deskbound exerciser.
Length: 15 minutes
Equipment: Body weight, a sturdy wall and a chair without wheels
Type of Workout: Strength training (toning) & flexibility
Muscles Worked: Full body workout (quads, glutes, hamstrings, calves, chest, shoulders, biceps, triceps, abs, obliques)
Fitness Level: Beginner to intermediate; with limited transitions between standing and sitting, this video may also be suitable for individuals with limited mobility.
Impact: Low-impact
Safety Precautions: Warm up before starting this workout and wear athletic shoes.

NEW!

Track Your Workout: Scroll down to the bottom of this article and click the "Add to Fitness Tracker" button. (You must be logged in for this to work.)
Viewing Tips
You can pause or rewind the video at any time if you need a break or need to watch for closer instructions. We suggest watching the video one time through before attempting the workout.
While this workout will take you through just one set (8-16 repetitions) of each exercise. If you choose to do more sets, simply replay the video until you finish 2-3 sets.
This video does not include music, but you can play a stereo or CD in the background as you workout. Just make sure you can still hear the instructions.
To play the video, simply click on the Play button (bottom left corner) to start. Below the video screen, you'll find buttons for Pause, Stop, and volume control.
Help us Spread the Spark
by
rating our video
(or marking it as a favorite) on YouTube.com!