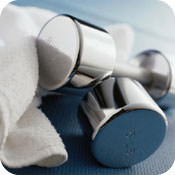 Learn to Love Strength Training
Improve Your Health and Your Appearance
-- By Leanne Beattie, Health & Fitness Writer
I'll admit it—I'm vain. So when I put on my summer tank tops a few months ago and noticed the dreaded "batwings" growing on the back of my arms, I panicked. I was too young to have my arms jiggling when I moved! I had to do something, fast—something more productive than hiding behind long-sleeved shirts for the rest of my life. I had to tone up my arms.

An information junkie, I have read about so many strength training routines that I could give Charles Atlas a run for his money. Notice I said read about strength training, not done it. But it was time to face the facts—and time to put my knowledge to work and actually use the dumbbells that were gathering dust under my bed.

So, with my doctor's approval, I set out to whip my arms (and legs) into shape. Being a real packrat, I also had piles of fitness magazines and printed web pages on the topic. Once I started reading about strength training in more detail, I was amazed at how beneficial a weight routine is to your body—and for your health. I took a few notes so I wouldn't forget those facts, and posted them around the house to keep me motivated and remind me of my goals.