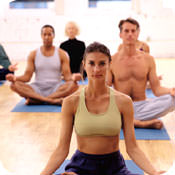 The Benefits and Virtues of Voluntary Simplicity
Simplify Your Life!
-- By Dean Anderson, Behavioral Psychology Expert
You probably know that carrying around extra weight can have negative effects on your health and happiness. But have you ever wondered how all the other "extras" in your life might be affecting you?

My good friend owns a successful real estate business, has a family with two young children, good health, and all the creature comforts he wants—a nice home, new cars every few years, and plenty of discretionary income. The last time I saw him, he looked extremely unhappy so I asked him what was going on. He told me he had just seen a family portrait that his 8-year-old daughter had drawn in school. The family was seated around the dinner table eating dinner—everyone, that is, except him. When he asked his daughter why he wasn't in the picture, she said, "Daddy, you're never home at dinner time. You don't get home until bedtime."

My friend was devastated. He suddenly felt that everything he had worked so hard to achieve was meaningless—that he had failed his family. Over the next few months, he was able to develop more balanced perspective and recognize that some things needed to change. His work took way too much of his time and energy, and the material benefits his work provided were turning out to be no substitute for the other things his family needed from him—and no substitute for what he needed from them, either.