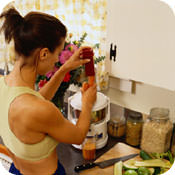 Practical Cooking Tips for Singles
Save Time, Money and Reduce Waste
-- By Liza Barnes, Health Educator
Living alone is not without benefits—peace and quiet whenever you need it, undisturbed organization and order (or guilt-free sloppiness), and room to stretch out and relax. But some things are just more fun when you have someone to share them with. Cooking is one of those things.

Cooking for guests usually evokes a sense of pride and accomplishment. But when you are cooking for yourself, it can feel more like a chore. On top of that, a busy lifestyle that includes any combination of work, school, child care and exercise can make it difficult to plan and prepare healthy meals. The following hints will help you prepare tasty, nutritious meals for one or two while saving time and money, reducing waste, and keeping your healthy diet in check.

Use your freezer. Big batch cooking isn't just for big families. If you've been avoiding cooking a favorite recipe just because it makes six servings, go ahead and cook it just for you. Portion the leftovers into containers, seal tightly, label with the date, and freeze for up to two months. Storing your food this way will help with portion control too—you can't have an extra helping if it's frozen solid!

Also take advantage of your freezer to reduce your produce waste. Bananas, strawberries, broccoli, and carrots can easily be frozen and used in things like smoothies and soups. Just wash, peel and chop if necessary, and store in an airtight bag in the freezer.