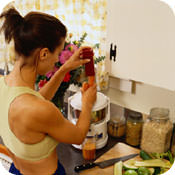 Practical Cooking Tips for Singles
Save Time, Money and Reduce Waste
-- By Liza Barnes, Health Educator

Invest in small appliances. Use some of that money you've saved by eating in and buy a few small appliances. A mini food-processor, blender and juicer will not only make cooking a breeze by shortening the preparation process, but might also expand your menu options to include items sure to liven up any menu—pureed soups, smoothies, fresh juices, dips and more. And don't forget about a toaster oven, which preheats in a flash and can be used to cook personal pizzas, salmon, and other toasty treats.

Take advantage of bulk bins. As a single, you may skip your grocer's bulk bins altogether. But bulk bin sections are perfect for the single shopper. Offering shelf-stable foods like grains, cereal, flour, granola, dried fruits, nuts, soup mixes, dried beans and legumes, these self-serve stations are often cheaper than the packages you buy in the grocery store. Plus, you can fill your bag or container with the exact amount of food you need—avoiding waste and saving money.

Plan your meals. Monday's roasted chicken and rice can become Wednesday's vegetable soup with rice and homemade chicken broth. The ultimate in no-waste efficient eating, menu planning isn't just for the ultra-organized. Just jot down a few dishes that you'd like to make in the upcoming week and then brainstorm about how you can use up the inevitable leftovers in other meals. Plan out when you'll have time to make and eat all the meals on your list, put together a shopping list for the necessary ingredients, and you're set!