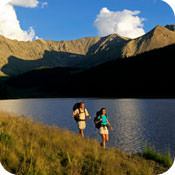 Active Vacation Ideas
Breaking Out of the Beach Rut
-- By Leanne Beattie, Health & Fitness Writer
Vacation season is just around the corner. For most of us, that means no work and no distractions—just lots of time to have fun without worrying about what's waiting for you back at the office. But taking the same old trip to the beach every summer gets kind of boring. Why not try something different this year and spend your vacation time getting active?

An active vacation is planned around physical activity—no lazing around on the beach for you! From walking tours across Europe to full-fledged adventure vacations, active vacations do your body good! If you'd like to try something different this year, here are some trips consider:

Walk This Way
Walking tours are excellent ways to discover the most beautiful places in the world. While you're exercising at a comfortable pace, you can drink in the sights and sounds of your city of choice. Why not traipse around Tuscany and mingle with locals, or pause in Paris for a treat at a corner bistro? Besides visiting the shopping districts, your days could be filled with vineyard visits, cooking demonstrations and tours of historical monuments. Taking a walking tour gives you a glimpse of how it really feels to be a native. Besides burning hundreds of calories a day, you will immerse yourself in local culture and come home with memories (and photos) to last a lifetime.