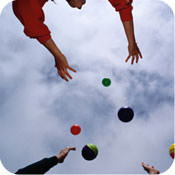 Outdoor Adventures Fit for Families
Get Out & Get Active as a Family
-- By Nicole Nichols, Fitness Instructor
Have you thought about how great it would be to include your family in your pursuit to exercise more regularly? Family exercise will improve the health of your loved ones, make exercise more fun, and at the same time develop stronger connections between all of you. With a little creativity, you can find a way to make it work for everyone.

Here are a few outdoor ideas to get your family focused on fitness:

Get out in the yard. Sunshine, fresh air, soft breezes, and the smells of nature—what could be better? Still, many people rank outside yard work right up there with filing tax returns. Hundreds of gas and electric yard tools were invented so you could stay inactive and indoors more often. People are putting a lot of effort into these products so you don't have to use any effort at all.

Self-powered yard work can be an incredible source of fun, relaxing exercise. It might be a time-saver too, if you can use it to offset some gym time. The whole family can get involved during various seasons. Younger children can help weed, plant, water, and rake. Older children can help with carrying, mulching, shoveling, and mowing. What a great reward for the whole family! When the "work" out is over, sit back and enjoy our lush, freshly landscaped yard. To learn more about yard workouts, read Work Out with Yard Work.