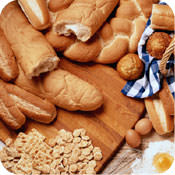 Carbohydrate-Counting Chart for People with Diabetes
A Single-Serving Reference Guide
-- By Becky Hand, Licensed & Registered Dietitian
Carbohydrates are your body's main energy source. During digestion, sugar (simple carbohydrates) and starches (complex carbohydrates) break down into blood sugar (glucose). If you consume too much carbohydrate-rich food at one time, your blood sugar levels may rise too high, which can be problematic. Monitoring your carbohydrate intake is a key to blood sugar control, as outlined in a plan by your doctor or dietitian.

Carbohydrates are found in lots of different foods. But the healthiest carbohydrate choices include whole grains, vegetables, fruits, legumes, beans, and low-fat dairy products. The chart below shows a single serving of carbohydrate-containing foods, which equals 15 grams: <pagebreak>


Grains

1 Serving = 15 g carbs

Bagel (white or whole wheat)

1/2 of a small

Bread (white or whole wheat)

1 slice (1 ounce)

Bun (white or whole wheat)

1/2 of a small

Crackers, round butter style

6

Dry cereal, unsweetened

3/4 cup

English muffin

1/2 of a small

Hot cereal (oatmeal, grits, etc.)

1/2 cup cooked

Macaroni, noodles, pasta or spaghetti

1/3 cup cooked

Pancakes and waffles

1 (4-inch diameter)

Pizza crust, thin

1/8 of a 12-inch pizza

Rice (white or brown)

1/3 cup cooked

Beans & Legumes

1 Serving = 15 g carbs

Baked beans

1/3 cup cooked

Beans (navy, black, pinto, red, etc.)

1/2 cup cooked

Lentils

1/2 cup cooked

Starchy Vegetables

1 Serving = 15 g carbs

Baked potato (regular or sweet)

1/2 medium (4 inches long)

Corn

1/2 cup cooked

French fries, regular cut

10-15 fries

Peas

1/2 cup cooked

Winter squash (acorn, butternut, etc.)

1 cup cooked

Vegetable soup

1 cup

Fruits

1 Serving = 15 g carbs

Apple

1 small

Banana

1/2 medium

Blackberries/Blueberries

3/4 cup

Canned fruit (in light syrup or juice)

1/2 cup

Cantaloupe

1 cup cubed

Cherries

12 to 15

Grapefruit

1/2 large

Grapes

17 small

Honeydew melon

1 cup

Orange

1 small

Peach

1 small

Pear

1 small

Raspberries

1 cup

Strawberries

1 1/2 cup whole

Watermelon

1 1/4 cup cubed

100% Fruit Juices

1 Serving = 15 g carbs

Apple juice

1/2 cup

Cranberry juice

1/3 cup

Grape juice

1/3 cup

Grapefruit juice

1/2 cup

Orange juice

1/2 cup

Pineapple juice

1/2 cup

Dairy Products

1 Serving = 15 g carbs

Milk (skim or 1% fat)

1 cup

Yogurt (plain, light or sugar-free)

1 cup

Sweets & Snacks

1 Serving = 15 g carbs

Cookies

2 small

Chips

0.75 oz

Frozen yogurt, regular

1/2 cup

Ice cream (light)

1/2 cup

Popcorn (plain or air-popped)

3 cups

Pretzels

0.75 oz

Pudding (sugar-free)

1/2 cup
For more information about eating with Type 2 diabetes,
click here
.
For more specific information or help, talk to your health care provider. The American Diabetes Association's National Call Center also offers live advice from 8:30 a.m. to 8 p.m. EST, Monday through Friday at 1-800-DIABETES or 1-800-342-2383.

This article has been reviewed and approved by Amy Poetker, Registered Dietitian and Certified Diabetes Educator.