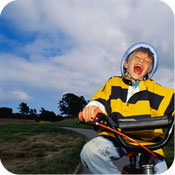 SparkPeople Needs Your Help Tackling Childhood Obesity
Take Action to Improve Kids' Health
-- By Jen Mueller, Certified Personal Trainer
Editor's Note: SparkPeople first asked for your help in fighting childhood obesity a few years ago, but with the recent launch of First Lady Michelle Obama's Let's Move campaign to combat childhood obesity, we updated this article and added additional resources.

Turn on the news any night of the week, and you're likely to see a story about one of the many discouraging trends that contribute to the prevalence of overweight and obese children. As a result, parents, teachers, and other mentors have been looking for ways to get their kids off of the couch and playing outside, and persuade their teens to reach for an apple instead of a candy bar.

SparkPeople.com wants to help you find solutions to keeping your kids healthy and active. With millions of parents visiting SparkPeople each month, we're uniquely qualified to work with our members to tackle this problem head on! Kids can learn from the healthy habits you are adopting on SparkPeople, and your choices can end up impacting the health of your entire family!

To tackle the childhood obesity epidemic, we started a Kids' Health SparkTeam for parents, teachers and everyone else interested in helping us lead the fight for kids health and against childhood obesity. With more than 45,000 members, this is a place to share strategies that will get kids excited about exercise; ask others what's working for their kids; and get ideas to improve the health of the children in your life. By starting small and building momentum as the Team grows, we can make a big difference!