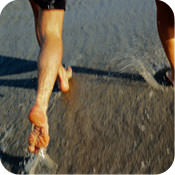 13 Ways to Cool Down Your Summer Workout
Look Hot and Stay Cool
-- By Leanne Beattie, Health & Fitness Writer

1. Get your doctor's okay. If you are new to fitness or taking any medications, check with your health care professional before exercising in the heat. Newcomers to exercise will be more sensitive to the heat, and some medications can impair your body's ability to regulate temperature.

2. Wear "wicking" fabrics. While cotton is comfortable, it doesn't wick away moisture very well. Choose a loose-fitting polyester/cotton blend instead, or synthetic fibers designed especially for wicking during exercise.

3. Protect your skin. Apply sunscreen with SPF 15 (or higher) to prevent sunburn—even on cloudy days. Use an oil-free formula that won't interfere with your body's ability to cool itself down and select a sweat-proof variety to prevent sunscreen from irritating your eyes. Clothing with tight weaves, sunglasses, and a lightweight hat with a brim can also help block the sun's harmful rays.

4. Drink often. Hydrate your body before, during and after your workout by carrying cold water and drinking it often. Switch to a sports drink with electrolytes if you will be exercising for more than an hour.

5. Perfect your timing. Sun, humidity and pollution levels are most intense during the day, so you're at greater risk for dehydration, sunburn and heat exhaustion during this time. To minimize the effects of the weather, work out in the early morning (before 10 a.m.) or late evening (after 7 p.m.).