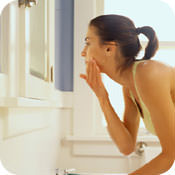 Homemade Beauty Recipes for Skin
Natural Treatments for Face & Body
-- By Liza Barnes, Health Educator
Many of the same wholesome foods that you eat to help your skin glow from the inside-out can also be used externally, as cleansers, moisturizers, and skin masks. These vitamins, minerals, and oils that nourish your body also nourish your skin. Below you'll find recipes for a variety of skincare products that you can make at home with a few simple ingredients. Make them for yourself or even give them as gifts by reusing pretty class jars or bottles. Your friends and relatives will love the personal touch, and you'll be recycling and saving money too! Here are some recipes to get you started.

Note: If you have sensitive skin, do a patch test before using any of these products. Apply a few drops to the inside of your wrist, and wait 12 hours to see if any irritation develops.

*For more information about uncommon ingredients, see bottom of article.

Soothing Lavender Body Wash
Lavender essential oil gives this body wash a fragrant scent, while grapeseed oil helps keep skin healthy.

1/2 cup liquid, unscented castile soap*
1 tsp grapeseed oil*
4 drops lavender essential oil*
Pour ingredients into a container, swirl to mix, and store in the shower for up to one month.
Mother Nature's Moisturizer
There are lots of simple plant oils that your can use to moisturize your skin, all of which can be stored in your bathroom.