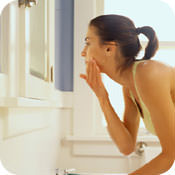 Homemade Beauty Recipes for Fall
Harvest Your Natural Beauty with Real Pumpkin!
-- By Liza Barnes, Health Educator
There's a reason pumpkins are so popular. Not only do they inspire creative carved sculptures, decadent desserts, and soothing stews, but they can also be blended into your beauty routine for healthier skin. Pumpkin is high in many nutrients that are as good for the outside of your body as they are for the inside:
Vitamin A (retinol) acts as a mild cleanser that also soothes and softens all skin types, even sensitive skin.
Vitamin C, a powerful antioxidant, preserves the health of skin cells.
Alpha-hydroxy acids gently exfoliate dead skin cells, draw out impurities, and revitalize the skin.
Zinc can help soothe irritated skin.
The synergy of all of these nutrients means that pumpkin is a natural and healthy way to care for your skin, including premature aging, sun spots, clogged pores, and a dull, uneven complexion. Autumn is the perfect time to experiment with this quintessential squash in your own beauty routine. Here's how.
This time of year, you'll find pumpkins at farmer's markets and supermarkets—or your local pumpkin patch. Fresh is best, so while you're out picking the perfect specimen for this years jack-o-lanterns, bring home an extra pumpkin for yourself. Cut it open, scoop out the seeds, and slice the pumpkin into large chunks. Place them on a baking sheet and bake at 400 degrees until the skin is easily pierced with a fork and the flesh is tender—about one hour. Allow to cool, and blend (with the peel attached) to make a puree to use in the following body care recipes. As a shortcut, you can always resort to canned pumpkin puree—but fresh is always best.