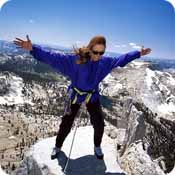 Going Through the Emotions
Why It's Worth the Trouble
-- By Mike Kramer, Staff Writer
The world can be a beautiful place, full of possibilities and life. You can feel invincible and in control. But it's not always like that, is it? The world can also be a stressful, upsetting, confidence-crushing place. At times, it seems like even something as clear-cut as weight loss is harder than it really needs to be. Is it worth the trouble, you ask. Why am I banging my head against the wall? Is it really doing any good?

You're darned right it is!

When life and your mind are full of troubles, when things seem out of control, you've got to take control of what you can. When confidence is low, that's exactly when you need to be at your healthiest, your strongest, your most energetic. There's no better time to create your own little corner of sanity and positive feeling. The best way you can do that is to stick with those small daily weight loss goals.

You can be the hammer, making things happen, or you can be the nail that sits there and gets pummeled over and over. If you're starting to feel like a nail, it's up to you to keep your program moving forward. Gather yourself together, draw a line in the sand and refuse to give in to the doubts and temptation to give in or quit.