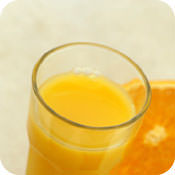 What to Eat This Winter
Enjoy the Season's Freshest Foods
-- By Liza Barnes, Health Educator
For most of us, eating seasonally is a foreign concept. Many people don't even know that foods have a season, let alone what foods are in season at any given time of year. In the U.S., we enjoy practically unlimited access to any food at any time of the year. Tomatoes in December are nice, but not without consequences. Flavor suffers, nutrient levels decline, and environmental impact soars with each mile a food must travel to reach its ultimate destination.

Local food, on the other hand, is seasonal and fresh! Boasting a host of benefits, including better flavor, more nutrients, and less environmental burden, it's usually picked just hours or days before you buy it (while standard supermarket produce can weather many days or even weeks in transport). It's also healthier for the environment because the food has traveled a shorter distance, meaning fewer fossil fuels are used in its transport from the farm to your table.

Possibly the best benefit though, is that seasonal food is always interesting, as each season brings a new crop of foods that you haven't had for an entire year. Before you've had a chance to tire of its bounty, the season changes to bring new, flavorful foods to add to your pantry.

But eating locally in February? Can it be done? Absolutely! Surprisingly, there are a number of foods that make winter their season, and if you stock up on these basics, cooking satisfying, fresh, and wholesome meals in the dead of winter will be a breeze. In any other season, this would be as simple as making a trip to your local farmer's market to stock up on the essentials. But many farmers' markets close down for the winter. In this season of scarcity, you'll probably need to call around to find a local farm that sells produce throughout the cold months. Check out www.FoodRoutes.org for a list of farms near you.

Once you find a source and make over your pantry for winter, all that's left is stirring and savoring. Availability will vary from region to region, but here's a general list of foods that make winter their season, along with tips on how to incorporate these ingredients into your meals. <pagebreak>

Winter Vegetables

Kale. This hearty green is a rich source of minerals (including calcium), and although it is available year-round, it actually tastes the sweetest in the winter. To eat, wash leaves thoroughly and tear them into small pieces—discarding the touch stem. Place in a steamer and steam until tender (five minutes). Sauté in garlic butter or olive oil; sprinkle with soy sauce; or toss right into a hot bowl of soup to boost its nutritional content.
Leeks. A mild-flavored member of the onion family—and essential ingredient in potato-leek soup—this winter vegetable adds delicious flavor to many recipes. Try them in your favorite winter stew.
Radicchio. A type of bitter lettuce, radicchio can be grilled or used in salads.
Radishes. Most commonly used in green salads and vegetable trays, this spicy root vegetable can also be cooked as a side dish. Thinly slice radishes and steam them until tender. Then sauté steamed radishes in butter with a few cloves of garlic, a squeeze of fresh lemon juice, and a sprinkle of dried dill weed.
Rutabaga. Another root vegetable, try mashed rutabagas instead of mashed potatoes.
Turnips. These spicy root vegetables can be braised, sautéed, pickled, sun-dried, or roasted. As a rule, smaller turnips are usually tastier than large ones.
<pagebreak>
Winter Fruits
Depending on your region, these citrus fruits may be abundant at this time of the year. If so, enjoy them for the rest of us! While they're fabulous straight out of the peel, there are some creative alternatives for enjoying these vitamin-rich fruits.
Grapefruit. Try an orange-grapefruit-pomegranate compote for a healthy desert.
Lemons. Whip up a batch of lemon bars.
Oranges. How about some freshly-squeezed orange juice to start your day? Also try adding orange zest to some of your favorite baked goods, like muffins and sweet breads.
Tangerines. Toss a peeled tangerine into a blender along with frozen banana chunks and some orange juice for a smoothie.
Winter Extra!
Chestnuts. Unless you live near a chestnut grove, you'll be hard-pressed to find these nuts locally. But December is their season, so here are a few options for preparing these holiday treats. After slicing a slit into their smooth shell, they may be boiled (for 15-30 minutes) or roasted (baked for 15-20 minutes at 400 degrees Fahrenheit, stirring occasionally). Eat them plain or incorporated into a recipe. Boil for 15-30 minutes, and then peel.
Although enjoying seasonal produce in the dead of winter may not be as straightforward as in other seasons, the delicious flavors of winter are well worth the extra trouble.