Korea-possible Cookbook

(Recipe Collection)
15 Recipes Created by LINZISMITH
(with ingredients I can actually find here in Korea)
Recipes in this Collection
Asian Peanut Noodle Salad
This is a delicious and vitamin packed pasta salad. A great summer dish that I often take to picnics. People always ask for this recipe and even my teenagers love it.Submitted by HERESTOCOUGARS
Carbs: 27g | Fat: 6.6g | Fiber: 4.5g | Protein: 6.5g | Calories: 173
Asian Roll Lettuce Wrap
These are so yummy and low in fat and caloriesSubmitted by ASHREIMS
Carbs: 18.2g | Fat: 8.4g | Fiber: 2.2g | Protein: 17.4g | Calories: 215.4
Vegetarian Black Bean Cakes with Orange-Basil Salsa
These bean cakes are yummy and great for you. Served with the salsa, it makes a very colorful and festive presentation. I serve these with a lite side salad. Plenty of protein and fiber. Even my meat loving hubby loves this meal.Submitted by BCJL13
Carbs: 48.3g | Fat: 6.1g | Fiber: 13.6g | Protein: 14.2g | Calories: 294.2
Easy Peanut and Sesame Noodles
Served cold or hot, these tangy yet sweet noodles are rich and tasty.
Carbs: 23g | Fat: 11g | Fiber: 4.3g | Protein: 7.7g | Calories: 208.2
Light Chinese Chicken Salads
UPDATED: Added the ramen and the almonds. Still a low-fat winner. Note that you don't use the ramen seasoning packet, so the sodium count is incorrect. Thanks for all the awesome reviews!

I'm sure no one in China actually eats anything like this, but we thank them for their culinary contribution of the soy-sesame-ginger-chile combo, which makes anything delicious. Submitted by FORMFITATX
Carbs: 24.8g | Fat: 4.1g | Fiber: 3.3g | Protein: 11.9g | Calories: 171
Authentic Chinese Stir Fry
This recipe was passed down to me by my Chinese coworker. Tastes like it was made in a Chinese restaurant!Submitted by JMM1383
Carbs: 36.6g | Fat: 7.8g | Fiber: 3.7g | Protein: 6.5g | Calories: 243.2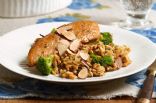 This recipe has been marked private.

Pecan & Cranberry Chicken Salad
A very delicious variation on chicken salad. Using Dijon and honey in the dressing make the difference. It's great to make a whole batch and just eat on it all week. Super crunchy, super good, you'll want to serve this at all your brunches and lunches. Submitted by ANNETTEBELISLE
Carbs: 17.8g | Fat: 14.2g | Fiber: 1.5g | Protein: 3.5g | Calories: 211.9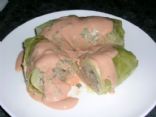 Creole Eggplant Black-eyed Peas & Basmati Rice
Tweaked from 150 Vegan Favorites by Jay Solomon. Mine is less spicy, but with added poblano peppers. I also added a squeeze of lemon at the end for a fresh burst of flavor.Submitted by INUNISON
Carbs: 40.5g | Fat: 4.7g | Fiber: 5.3g | Protein: 5.1g | Calories: 236.8
Chinese Orange Chicken
A healthier version of restaurant-style Chinese orange chickenSubmitted by LINDZEEF
Carbs: 34g | Fat: 5.7g | Fiber: 1.4g | Protein: 26g | Calories: 293.8
Send this recipe collection to a friend - https://recipes.sparkpeople.com/cookbooks.asp?cookbook=201936