Nutritional Info
Servings Per Recipe: 2
Amount Per Serving

Calories: 179.7
Total Fat:

12.1 g

Cholesterol:

15.5 mg

Sodium:

30.8 mg

Total Carbs:

17.6 g

Dietary Fiber:

4.9 g

Protein:

4.4 g
Report Inappropriate Recipe
Buttery Brussels Sprouts with Sage, Dried Cranberries and Pecans
Submitted by: SPARK_RECIPES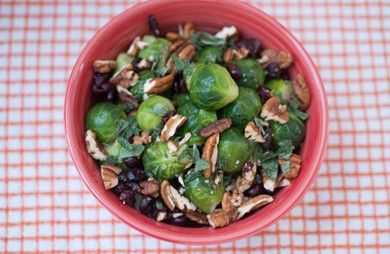 Introduction
This 10-minute side dish is perfect for fall meals.
This 10-minute side dish is perfect for fall meals.
Ingredients
1 tablespoon unsalted butter




1 (10-ounce) package frozen Brussels sprouts




6-8 fresh sage leaves, chopped




1/4 teaspoon black pepper




2 tablespoons dried cranberries




2 tablespoons chopped pecans, toasted



Tips
Toss with 2 cups cooked quinoa and 12 ounces shredded chicken breast for a light meal.
Directions
Prepare the Brussels sprouts according to package directions.
Meanwhile, heat a medium skillet over medium heat. Add the butter, and when it started to foam, add the Brussels sprouts and the sage and pepper. Saute for three minutes, until the sage is fragrant.
Add the cranberries and cook another three minutes, until they start to plump.
Remove from heat, transfer to a serving bowl, and sprinkle with the toasted pecans. Serve immediately.
Serving Size: Serves 2 (2/3 cup each)
Created by SparkRecipes.com editor Stepfanie Romine
Photos by
Whitmeyer Photography
Rate This Recipe
Member Ratings For This Recipe
Was hoping for non-packaged version...

- 2/13/13

Reply from

SPARK_RECIPES

(2/13/13)

Thanks for your feedback. We strive to balance the needs of our millions of members on SparkRecipes.com and understand that not every recipe will suit every palate. Each person's food philosophy is different.