Oatmeal Creme Brulee
Nutritional Info
Servings Per Recipe: 8
Amount Per Serving
Calories:

140.8
Total Fat:

1.9 g

Cholesterol:

2.1 mg

Sodium:

124.0 mg

Total Carbs:

23.4 g

Dietary Fiber:

2.2 g

Protein:

7.7 g
Report Inappropriate Recipe
Submitted by: ELAINEHN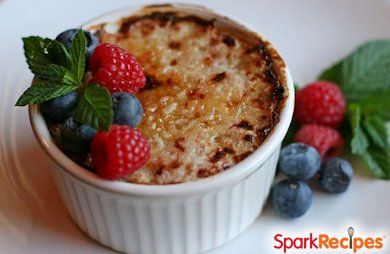 Introduction
Great for Breakfast, dessert or snack!
Great for Breakfast, dessert or snack!
Ingredients
2 1/4 Cups Quaker Old Fashioned Oats (dry)




1/3 Cup Splenda




1/4 tsp Salt (optional)




3 1/3 Cup Skim or 1% milk




2 Eggs or equivalent amount of egg substitute




2 teaspoons Vanilla extract




Cinnamon (optional)




1 heaping tablespoon Brown sugar (more or less to taste)



Directions
Preheat oven to 350 degrees. Spray 8X11 dish with cooking spray.

Combine milk, eggs and vanilla in large bowl. Add oats, splenda, and salt; mix well. (Add cinammon to taste, if you wish.)
Pour into baking dish, spread oats if needed.
Bake 40-45 minutes or until center is jiggly but not runny. Edges should be lightly browned and may pull away from dish slightly.
Remove from oven.

Sprinkle brown sugar evenly over the top. Return to oven and bake till sugar is melted. Turn oven to broil and heat until sugar bubbles and browns slightly (about 1-2 minutes). Allow to cool slightly, cut into 8 servings.

You can use more brown sugar on top if ou want a sweeter dish or a more solid 'crust' like with typical creme brulee. For a more filling breakfast, serve with cut up fruit, berried, Cool Whip Free, fat free yogurt.

Number of Servings: 8

Recipe submitted by SparkPeople user ELAINEHN.


Great Stories from around the Web
Rate This Recipe
Member Ratings For This Recipe
Easy to make and delicious. I made individual servings which cut baking time to 25 min and made the night before. Reheated in micro for 1 min and under broiler for 2 mins in the am. Just don't add brown sugar when baking ahead; wait until ready to put under broiler when reheating.

- 1/19/11

This recipe was tasty but not out of this world. It had a lovely custard texture from the eggs but really just tasted like lightly sweetened oatmeal. I enjoy the texture a lot though, and it made an easy breakfast for the kids to grab and go on the way to school.

- 2/9/11

this was REALLY good! i used soy milk instead and it came out too thick but it was still delicious, maybe i'll use more next time or cook it for less time cuz it's mostly water. I had it with cottage cheese and it was delicious, can't wait to have left overs. Thanks for the recipe

- 9/2/09

I thought this required a lot of cooking time for what you got...would have been just as yummy to make plain oatmeal....not my favorite

- 3/18/07

Reply from

ELAINEHN

(9/10/08)

Sorry you didn't care for this. I guess for me, the main advantage of this over 'regular' oatmeal is the slightly sweet eggy-custardy layer that forms (like creme brulee) ... & that it can be refrigerated then cut into single serving squares for a quick breakfast or snack later in the week.