Nutritional Info
Servings Per Recipe: 30
Amount Per Serving

Calories: 252.2
Total Fat:

9.9 g

Cholesterol:

53.4 mg

Sodium:

137.6 mg

Total Carbs:

38.3 g

Dietary Fiber:

0.8 g

Protein:

3.8 g
Report Inappropriate Recipe
Sugar's Yummy Red Velvet Cupcakes
Submitted by: SUGAR_BUM_BUM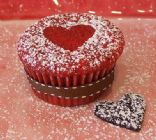 Introduction
Melt in your mouth good!!! These cupcakes are a little on the sinful side they are well worth it. I promise your family will LOVE these cupcakes all year round.....happy baking!! :-D
Melt in your mouth good!!! These cupcakes are a little on the sinful side they are well worth it. I promise your family will LOVE these cupcakes all year round.....happy baking!! :-D
Ingredients
For cupcakes:





2 1/2 cups flour




1/2 cup cocoa powder




1 tsp baking soda




1/2 tsp salt




1 cup butter, softened




2 cups sugar




4 eggs




1 cup reduced fat sour cream




1/2 cup 1% milk




1 bottle red food coloring




2 tsp vanilla extract






For cupcake Frosting:




1 package softened low fat cream cheese




4 tbsp softened butter




2 tbsp reduced fat sour cream




2 tsp vanilla extract




16 oz (1 box) powdered sugar



Directions
To make cupcakes:
MIX flour, cocoa, baking soda and salt. BEAT butter and sugar in large bowl with electric mixer set to medium for about 5 minutes or until light and fluffy. BEAT in eggs, 1 at a time. MIX sour cream, milk, food coloring, and vanilla. Gradually beat in flour mixture on low speed just until blended. Spoon batter into paper lined (could use festive liners here) muffin cups, filling each about 2/3 full. BAKE at 350 for 20-25 minutes. Cool in pans for 5 minutes. Remove cupcakes from pan and let cool completely before spreading on icing. Makes 30 cupcakes.

For cupcake frosting:
BEAT cream cheese, butter, sour cream and vanilla in large bowl until light and fluffy. Gradually beat in entire box of powdered sugar on medium speed until smooth.

Number of Servings: 30

Recipe submitted by SparkPeople user SUGAR_BUM_BUM.


Rate This Recipe
Member Ratings For This Recipe
This was really good! I made a few modifications in order to cut out about 100 calories per cupcake, with this recipe making 24 servings rather than 30. I used Splenda and applesauce in place of the sugar and sour cream, added 1/2 C milk, and powdered sugar sprinkled on top instead of frosting.

- 1/26/12